A New View on Life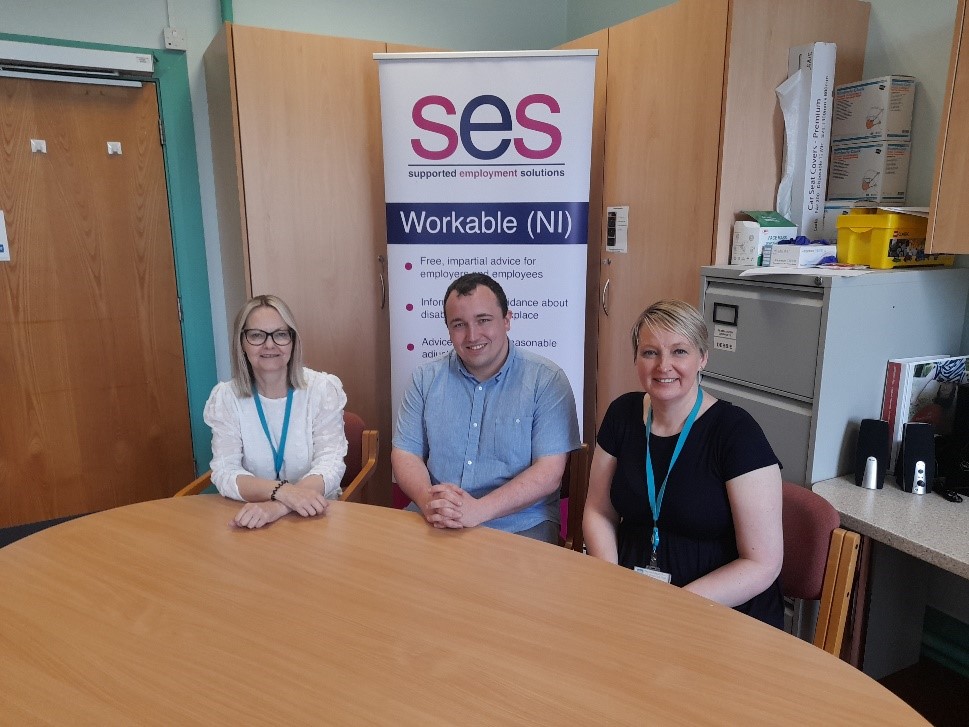 L-R Doreen Bacon (Business & Governance Manager), Reece Kennedy (Administration Clerk), Hilary McLean (Office Manager)
Hi, my name is Reece I have autism, dyslexia and dyspraxia. I was referred to Workable N.I. after having to go off sick from work due to stress and anxiety. This was due to me not being able to share with my supervisor and work colleagues that I was struggling. This resulted in my work getting on top off me, which felt like an awful weight hanging over me until it got too much which resulted in me having an anxiety and stress related episode in work, which led to me having to go off work on sick leave.
When I was first referred to Workable NI, I didn't know how it was going to work. Would it be face-to-face appointments, zoom or by telephone. Before attending my first appointment I received a phone call from my Workable caseworker who talked me through how the service worked. This resulted in us organising an appointment that suited me best.
When I attended my first appointment I was put completely at ease that the main goal of my case worker was to help me get back to work with more supports put in place. Luckily enough after multiple appointments with Workable and being referred by them to Access to Work and Inspire, this helped give me the tools and support I needed to help manage my anxiety and stress. This has supported my return to work.
Workable had helped so much at getting new strategies put in place and worked alongside me, my supervisor and Head of Service. This was done through organising meetings with us all together or with me on my own. My workable caseworker came out to see me in the workplace and also arranged meetings by telephone. They also kept in touch with me by email and text to check in-between appointments to make sure that the next agreed appointment still suited or if there was anything else that they could help with until then.
Workable and my workplace helped organise training so that if I was struggling again my colleagues would notice and be able to help prevent a situation arise again. Workable also helped me realise that I was better coming forward when I'm struggling as its better to prevent problems getting any bigger.
I now know that I have multiple people in work to support me if I start to feel stressed or anxious, including my supervisor and Head of service. They have all told me they are there to support me. As well as this, Workable has recommended other things that can help me in work that my supervisor and head of service are more than happy to implement or look into when suggested.
After being involved with Workable I am so much happier in my workplace, as it has allowed me to develop more as a part of the team and become more involved in the day-to-day office work. I would suggest anyone that is struggling in work to get in contact, as the service is very friendly and accommodating to service users.