AdaptNI Celebrates International Day of Sign Languages with a Focus on Inclusivity and Employment Support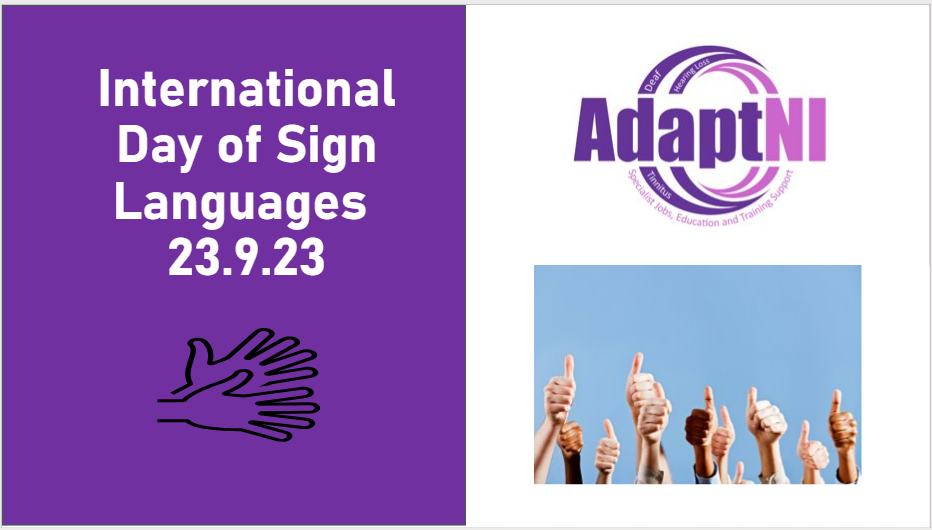 On September 23, 2023, Northern Ireland will join the global community in celebrating the International Day of Sign Languages. This day serves as a reminder of the importance of sign languages in promoting inclusion and accessibility for Deaf Communities.
The AdaptNI Team, provide employment support for the deaf community and strive to play a pivotal role in bridging the gap between job seekers and employers, ensuring equal opportunities for all.
This year's celebration will showcase a series of initiatives aimed at raising awareness about sign languages and fostering a more inclusive society. Some of the key highlights include:
Communication Tactics Sessions – As part of our Workable NI and SkillSET Projects we will co-deliver training sessions to increase skill, understanding and raise awareness.
Community Engagement: Engaging with our community through outreach events and social media campaigns, using the hashtag #InternationalDayofSignLanguages to share stories, experiences, and ideas on how to promote inclusivity and equal opportunities.

Zoom Sessions; learn the basics with AdaptNI – this is not an accredited course, but an opportunity to learn A-Z, numbers and greetings in both BSL and ISL – check out our social media and website for dates and times
Laura from the AdaptNI Team expressed her excitement for the upcoming celebration, saying, "International Day of Sign Languages is a wonderful opportunity to showcase the importance of sign languages in Northern Ireland and throughout the World. It's a day to celebrate diversity and promote inclusivity, especially in the workplace. AdaptNI is proud to be at the forefront of employment support for the Deaf community in Northern Ireland, and we look forward to continuing our mission."
AdaptNI invites everyone to come together on the week leading up to September 23rd to celebrate the beauty of sign languages and work towards a more inclusive and accessible future.
For further information on AdaptNI or the employment services supporting the Deaf, hearing loss and tinnitus communities throughout Northern Ireland, check out the website www.adaptni.org.uk or contact the team [email protected]