The first ever World Conference on Supported Employment has taken place in Belfast in June 2017.
Building on the previous European Conference, the World Conference seen 670 delegates arrive in Belfast from 45 countries with Australia, China, Canada, United States of America and most European countries in attendance.
SES partner organisations were in attendance, showcasing our services and benchmarking with other organisations and countries.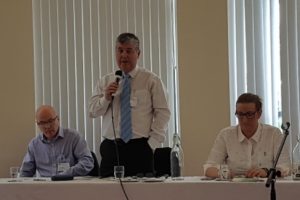 Peter Shields and Kieran Molloy from SES delivered a workshop around partnership working and seemed to impress the delegates.
The conference dinner was held in the Titanic Building and the oversees visitors were very impressed with the city and its history.
So many inspirational stories were shared from people who have been able to change their lives using #supportedemployment – this conference really highlighted the excellent work going on and looked at where the challenges are ahead.
In 2019 the next European Conference will be in Amsterdam and in 2021 the 2nd World Conference will take place in Canada.