RNID held their first Big Lunch in June outside the prestigious Belfast City Hall. Organised by the charity's Workable NI programme, which supports people who are deaf, have hearing loss or tinnitus in employment, this was a much-needed opportunity for staff to invite clients along for a get together over food and to reconnect. The weather was on their side so the group were able to gather on the grass for a picnic and share updates and good news.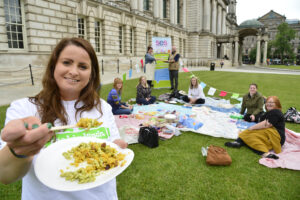 The Workable programme supports people who are deaf, have hearing loss or tinnitus, by providing one to one support, training, and advice about reasonable adjustments. In June 2019 RNID introduced peer support sessions, with each week focusing on a different theme; including health and wellbeing, technology and Access to Work. Following the success of these evening sessions, the team offered a monthly informal catch up for participants to learn and check in with each other. Since the pandemic the team have had to come up with solutions on how to get together and keep the much-needed support in place, including meeting virtually.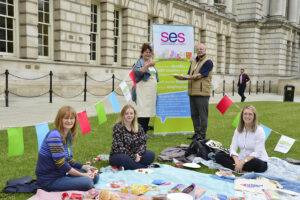 Face coverings have created barriers for people who are deaf, have hearing loss or tinnitus during lockdown who rely on lipreading, with many people feeling stressed or isolated. Other measures in the workplace such as Perspex screens, social distancing and video calls can also make communication more difficult with many people who are deaf or have hearing loss saying the pandemic has made it harder for them to do their job.
Laura Murphy, Employment Support Officer for RNID and The Big Lunch Organiser said: "Since March 2020 the peer support and all one-to-one interactions have been delivered digitally, through WhatsApp, FaceTime, Zoom and Microsoft Teams. When I heard about the Big Lunch, I imagined the happiness a face-to-face catch up would bring to the team and all participants. The Big Lunch Team were fantastic, supportive, and made the get together so special for all involved. We are so grateful to the team and to Iceland for all their support of our Big Lunch!"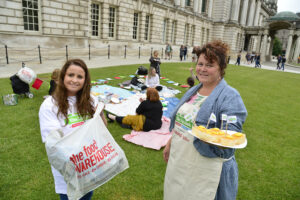 Huge thanks to The Big Lunch partners Iceland and The Food Warehouse for their support. To find out more about RNID and the Workable programme team in Northern Ireland please visit www.rnid.org.uk or contact [email protected]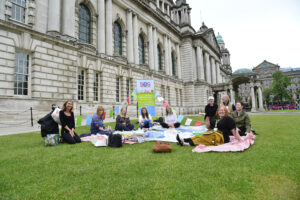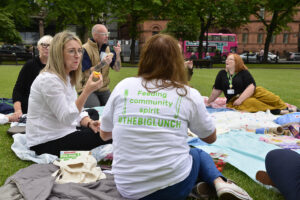 The Workable Programme is delivered by seven disability organisations working together through the Supported Employment Solutions (SES) partnership. SES delivers programmes to assist people with disabilities and health conditions to enter and stay in employment. The Workable Programme is funded by the Department for Communities.