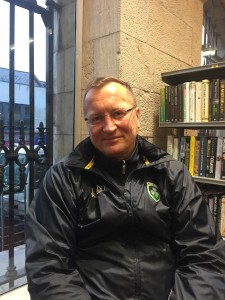 My name is Viktoras Bartasevicius and I live in Armagh. I moved to Northern Ireland in 2003 having previously worked in USSR Army for many years as Captain Lieutenant. I began working as a lorry diver in 2003 however in 2013 I began to feel unwell. Following a number of medical tests I was diagnosed with a brain tumour. I had to have brain surgery to remove the tumour but unfortunately one of consequences left me blind in one eye. I found I could no longer return to lorry driving as I had subsequently had to surrender my driving licence. I lost my independence and I felt very unsure about what other career options were available to me; what I would be qualified and fit to do.
Throughout this time I continued volunteering for Citizen Advice Bureau and Reed in Partnership as an interpreter. I am fluent in English, Lithuanian and Russian but also have knowledge of German and Polish. I visited my personal adviser for some advice to help me find a job I could do regardless of my disability. Jacinta informed me about work connect programme and referred me to Cedar Foundation.
I met Seline in July 2015. Seline helped me redevelop my CV and showed and supported me to job search.  I previously had worked in a Psychiatric Hospital many years ago in Lithuania and had enjoyed care work, I was also interested in paid interpreter work.  Seline helped me source and enrol on a Level 2 Health and Social Care Course at my local college and we began looking for a work placement or paid work in this environment. Every two weeks Seline assisted me to complete application forms. I started my course in September and I was very excited to be learning again and meeting new people.
I applied for a care assistant position at Ard Mhaca Care Home In September and I found out I was successful in getting an interview. Seline helped me prepare for my interview. Although I am fluent in English I found this to be a barrier for an interview. A lot of the words I translated were terms which were not viewed as politically correct in English within the care industry. Seline made a list of keywords I should use and advised me on terms which I should not use.
I was very happy to be offered full time employment as a care assistant and following an Access NI check I began working on 4th November. I am very happy to know that I will continue to have support over the next 26 weeks should I need it. For now everything is going well and I really enjoyed my first week. I feel happy and glad to be contributing to my local community again. I enjoy meeting people and the social side to work. I would highly recommend work connect to anyone with a disability or health condition wishing to return to work.