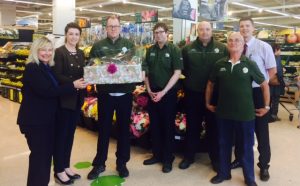 Stuart Gray, the produce team and David Lowry (produce manager) from Tesco's Bentrim Road branch in Antrim donate a large exotic fruit basket to Celine Hamill of SES.
SES have been supporting Stuart and Tesco through the Workable (NI) programme.
Workable (NI) is a supported employment programme which supports, mentors and trains people to maintain their job. The programme also gives valuable support and advice to employers throughout Northern Ireland.
The fruit basket was well received by the staff within the Cedar Foundation and the young people participating on their Summer scheme who all enjoyed their healthy snacks.
For more information please take a look at our 'what we do' page and please feel free to contact us for a chat.