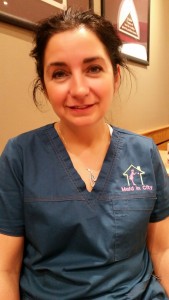 My name is Anona Kirk-Fielding. I had been in employment my whole life and had gone to University and completed my degree in Design and a Post Graduate Diploma in Teaching. I secured employment in a teaching role but after 5 years I felt it wasn't the right career path for me. I decided to look for other employment opportunities and successfully gained a post in the retail sector working for local Home furnishing company. After 3 years I moved to a National Home furnishing company where I worked for over 10 years and progressed to the role of Supervisor. After returning from maternity leave I found myself being made redundant as the company ceased trading. I didn't think this would have affected me quite the way it did, whether it was a combination of post-natal depression and the turmoil of losing my job that resulted in me ended up on a high dosage of anti-depressants. I felt like I was in a black hole, I had lost all my confidence and self-esteem. As a result of my unemployment I faced financial struggles as I had always been used to having an income and routine to my life.
My personal adviser Stephen Martin recommended the Work Connect Programme to me. I decided to give it a go as I felt I wanted to get out of my situation and make a positive change. I was referred to Sabrina McCartney who was the Employment Officer for the Work Connect Programme. Initially we met weekly, I felt she really listened and helped me to redo my CV and we then began applying for numerous posts. She emailed me posts in between meetings for me to contemplate at our next meetings. She had time at each meeting and encouraged me so much. I felt I had someone who believed in me which is just what I needed. She coached me through various interview techniques and advised on things such as what to wear and how to answer questions. Sabrina helped find me a Self Esteem Course through Derry Well Woman, I felt this gave me a such a boost as it made me look at my own thought processes and enable me to develop helpful thoughts.
After being unemployed for such a long spell I then secured four interviews for numerous posts, which was such a turn around. I underwent an interview and Work trial and secured a part time employment with Mothercare as a Sales Assistant. I worked for Mothercare for 13 weeks but felt it was not the right fit for me.
With Sabrina's support and advice I decided to leave Mothercare and follow a dream I had always had of being my own boss and starting my own Cleaning Company. I registered my Company "Maid In City" and through Word of Mouth I gained 8 clients. I now have better control over my shifts, and who I work with on a daily and weekly basis and can fit my work in around my family life. My clients are all so understanding and really appreciative of what I do for them that it really makes me feel good about getting up and going to work.
I continue to work Part time and can be flexible when needed which is important for me, as I also want to be able to make time for my children and family commitments. I feel that work pressure is not an issue for me anymore, I am less stressed, I feel in control, my confidence has soared and instead of the dark hole that I was once trapped in I see a much brighter future.