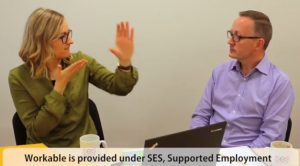 Our partner, Action on Hearing Loss, has recently finished their latest film all about the Workable (N) programme. This is aimed at assisting employees and employers who either experience hearing loss, or possibly work with a person who has hearing loss. SES can support people to remain in their job where there are issues, resolve problems which are having an effect on attendance or help address capability issues.
Have a look at the video here: https://youtu.be/3zCmjhoPYvE
I think the Academy Award is on its way…. cheers Michael and Holly!
For more information on any of the SES partners, please use the contact form on this site or contact me directly: Peter Wilson 07791 075921