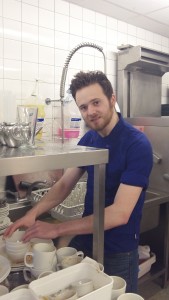 Craig has been working at the Brewer's Fayre as a Kitchen Team Member since October 2012, receiving support from Mencap through the Workable (NI) programme.
Mencap initially started working with Craig on the Transition course at North West Regional College, where he acquired some work skills qualifications and completed a number of work placements. Upon leaving the Transition course, Craig was very determined to secure paid employment and with the support of his employment officer, Craig successfully achieved this at the newly opened Brewer's Fayre restaurant. NIUSE (Northern Ireland Union of Supported Employment) had negotiated a 'guaranteed interview' scheme for people with disabilities with the Employer (Whitbread Group) and whilst this gave Craig the reasonable adjustment he needed to secure an interview, he was still competing with over 5000 other applicants for less than 50 new positions.
Since October 2012, Craig has become an invaluable team member in the Kitchen but he is keen to develop further within the company. His General Manager, Andy Orr, provides support and encouragement to Craig and is keen for Craig to take any opportunities for development and learning to enable him to progress in his role stating "Whitbread's ethos is about creating family values, embracing our employee's and providing an environment which creates a sustainable work life balance. Our SES partnership work with Mencap assists us in delivering a unique training and development package to enhance Craig's performance and to help him recognise and feel valued as part of the Whitbread family".
Whitbread have a comprehensive employee development programme and Craig has been working on this with support from his Workable (NI) Employment Officer, Amanda Moore. Craig has also taken responsibility for his own learning and currently attends evening classes at North West Regional College, undertaking a Level 2 in Hospitality and Catering. Craig hopes to be able to join the chef team in the future if an opportunity comes his way.
Outside of work, Craig enjoys an active social life and following one of his passions, professional wrestling. Craig has been to a number of WWE events in Ireland however he has recently realised a dream of travelling to Austin, Texas to attend the WWE annual showcase Wrestlemania. Whilst in the USA, Craig also got involved in another one of his passions, high speed roller coasters, when he went to the Six Flags theme park in Texas. Craig recognises this would not have been possible without his paid employment at Brewer's Fayre he says "having a job means that I
can travel more and see the world. Having my own money gives me freedom and independence, and allows me to make choices about my own life".
Craig's employment has also increased his self-confidence and he has represented Mencap at a number of public-speaking events, most recently at Stormont where he talked about how the partnership between Mencap and North West Regional College has supported his personal development and enabled him to successfully secure paid employment. Craig says "Support from Mencap has helped build my confidence and made me believe that my goals and dreams are possible, my employment officer helps me to make these real".
Craig continues to be positive about his future employment opportunities at Brewer's Fayre and hopes to secure that chef job in the very near future, further increasing his confidence and work skills. He also recognises this will help him to continue to travel and enjoy life with friends, whether that be cheering on his favourite WWE superstars or riding the world's fastest roller coaster, either way in work and life Craig certainly won't be standing still!