Pauline McCarthy, a teacher from Portaferry with hearing loss has spoken out about her journey in the workplace.
Pauline, who is an Art and Design teacher in Our Lady and Saint Patrick's College, Knock, discussed the building stress and anxiety of living and working with hearing loss; "My hearing loss was gradual, and I would be the type of person to just get on with things".
After contacting the Workable NI Programme team at RNID, Pauline notes she "realised the true impact" hearing loss was having on her. Pauline's Employment Support Officer, who just so happened to be a past-pupil of the college, worked with Pauline and principal Deborah to address some of the barriers within the workplace.
During one-to-one sessions, aspects such as hearing fatigue (whereby a person who is straining to hear or lipread experiences increased exhaustion) were discussed and Pauline was referred to the Condition Management Programme. Pauline notes: "I had never heard that term before but when my Employment Support Officer brought it up, I thought 'that is exactly it – it's not just me'."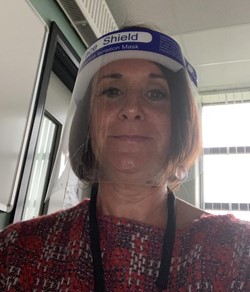 As part of the support through the programme, a bespoke training session was recorded for the pupils that Pauline teaches, outlining the importance of clear communication in the classroom. Our Lady and Saint Patrick's College also procured assistive equipment for Pauline to use which helps to reduce some of the background noise of the classroom. Of the equipment, Pauline says "of course, there is no equipment that restores hearing, but it is helpful to have this (personal listener)".
Like many who are deaf or have hearing loss, COVID19 and the resulting restrictions impacted Pauline greatly. Changes to familiar practices in the school, as well as distancing and the use of masks, meant communication was a greater challenge. The College agreed to provide some additional support to Pauline by way of a teaching assistant who is able to assist Pauline with some of the larger classes she takes.
Principal Deborah McLaughlin says, "The support provided through the Workable NI Programme team at RNID has been invaluable to both Pauline and the College. It is important for employers to realise that professional assistance for each individual employee, and his/her respective employer, is simply just a phone call away."
Senior Employment Support Officer Andrea Quinn says, "it has been fantastic to see such progress with Pauline – she is confident to advocate for herself in the workplace and indeed the College have been very supportive throughout the process, engaging with employer information sessions and learning more about hearing loss".
Despite her decades of teaching experience, Pauline admits that, at times, she questioned her future in the profession due to the effects of her hearing loss; "without the support of the Workable NI Programme and Condition Management Programme, I might have ended up just giving up". Now, however, Pauline acknowledges the change in her confidence and her coping mechanisms. Through monthly Peer Support sessions held by the RNID Workable NI Team, Pauline has met with other teachers on the programme and even worked with them to set up a Facebook group for teachers with hearing loss in Northern Ireland.
If you feel you would benefit from support in the workplace, please contact the Workable Team:
07384836056 – text/phone