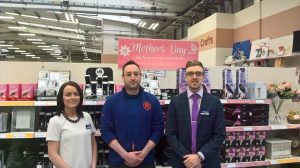 L-R Ashley Rodgers (Deputy Manager) Christopher Moore (Replenishment Supervisor) Barry Simpson (Sales Manager)
Christopher is feeling right at home in the Range, having returned to work through the Work Connect programme. This provided 1:1 support from an employment officer, offering a personalised approach to sourcing  suitable employment opportunities.
"Work Connect has been very useful in helping me remain focused on making a return to work and supporting me in the workplace, as from time to time I still find things hard sometimes. Work Connect does work and is working for me, so thanks to Robert, my Employment Officer, for helping me back into work, and more!"
"I have been working in the Range for the past four months now, in the position of Supervisor for the Replenishment team, where we break down deliveries for all departments throughout the store. The support and encouragement I have received from my managers has been fantastic, my managers and other staff are very friendly, making the Range a great place to work. I am currently training to operate the forklift and hope to continue to develop my skills and experience during my time here."
If you would like more information about any of our services please contact us to see if we can support you into work, to go back to work or to stay in work. We use the #supportedemployment model to support people and employers.