A local employer describes how Workable (NI) has helped one staff member to retain their job!
'I have been Ingrid's line manager for a good few years, over this time we had tried a lot of work place adjustments, variations, courses and counselling to help Ingrid and ourselves cope with her disorder and attend work regularly – with little success. It had actually come to the point where Ingrid's sickness absence from work had become unsustainable and retirement due to ill health was becoming a real possibility. We had looked before at outside agencies to help stabilise Ingrid's work pattern but none seemed to be able to help with mental health issues.
Ingrid herself sourced help from Workable N.I. and with Robert McGeachy as her employment support she hasn't looked back. Ingrid's attendance record for the last year and a half is exemplary; she has grown in confidence within the workplace, taking on extra duties and responsibilities. The approach that Workable NI via Robert have taken has certainly worked for Ingrid and us, working with and being considerate of the needs of the management team and the employee they have a great understanding of what it takes to sustain employment with a mental illness.'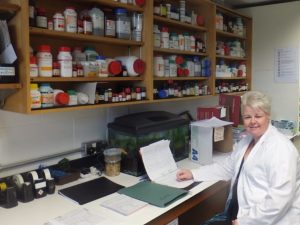 Ingrid describes how she has got back in the driving seat
I was diagnosed with having a Bipolar Disorder and was struggling at work due to several episodes back to back.  This lead to the possibility of being retired on ill health.  I wasn't ready to retire so I then turned to Workable NI to see if they could support me and help me stay in work and be an effective team member.
I was allocated Robert McGeachy, as my Employment Officer. Alongside both my technical services co-ordinator and my technical service manager who were key supporters within this process I began my programme.
Firstly, we looked at my role and put in place some reasonable adjustments. Then I began a course of psychodynamic therapy, through the programme.  This was the turning point in the whole process.  Now throughout my illness, I've received many forms of counselling but this was the most effective I have ever encountered.  My counsellor, addressed so many issues that I had never dealt with, it was hard at times but it helped with my ability to manage my illness and gave me a whole new set of coping skills. Both in a work situation and life in general.  I really got to know myself.
This is turn, showed in my work.  I was able to attend on a regular basis.  I was able to cope with my duties and was able to even take on more responsibilities, go on training courses without it impacting on my health.
All this became very relevant as we came to the twelve-month mark. Now I had been in my role for 17 years. A higher grade role became available within the Faculty, I was fit to apply for this role and was successful in getting the post.
I'm now happily settled within this role.  Also I would like to add I hadn't been driving for years as I hadn't the confidence.  I'm now a proud owner of a wee car and I'm back behind the wheel.  Literally I'm back in the driving seat. Thank you
Ingrid Tregear
Thank you