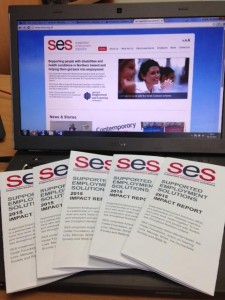 SES have recently published their 2015 Impact Report. This report highlights the success of the DEL funded Work Connect and Workable (NI) programmes.
On Work Connect, 40% of people registered attained employment in all sectors.
In terms of Workable (NI) the report shows SES supporting people in employment and supporting 190 local employers to retain employees.
Kieran Molloy, Head of Employability and Inclusion explained 'SES is proud of the achievements we have made over the past year which are highlighted in the 2015 Impact Report. This success is a tribute to the commitment and expertise of our staff in using the Supported Employment model to support people with disabilities to secure and sustain employment.
For more information or a paper copy of the report please contact us.
To view the report click on the link below: