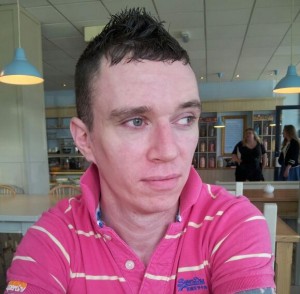 Prior to starting on the Work Connect programme I felt I was really in a rut and had been in and out of trouble.  I had had a difficult childhood and had been in and out of hostels from the age of 17.  I had always felt really low and down and hide myself away because I felt I had nothing. I had no qualifications and felt nothing in my life had really gone right.
In 2010 I found out I was going to be a father and this made me realise I needed to take steps to help improve my own well being and to provide for my future family. I had gained employment in a few posts but found it difficult to hold them down due to my condition and the anxiety and panic attacks I would have as a result of my depression.
Then 2012 the birth of my second son made me feel that financially and mentally I needed to sort myself out. I contacted my adviser Gerard Mc Guckin at Magherafelt Jobs and Benefits office and he referred me to the Work Connect Programme.
The Employment officer at Work Connect was extremely quick in getting back to me and we began meeting on a weekly basis. She helped me to build up my CV and do job applications/ job searches and prepare for interviews. I felt that with my own will power and her support I was able to start moving forward and overcome the anxiety and panic that accompanied my depression. I had a few interviews in the beginning but with no success, however I felt that this made me stronger and more determined to get a post.
I then had a job interview for Subway and felt that I performed really at the interview. They finally got in touch and informed me I had got the post. Since getting the job and being on the programme I feel that I really have been able to come out of myself. I can interact well with customers and other staff members.  I successfully completed my Subway University training and am now settled into the post and for once in my life things really seem to be looking up. I am really glad to still have support from Sabrina that if I encounter any problems I can always contact her and try to work through them.
I wouldn't be where I am at today without the help of the Work Connect programme. I would strongly advise others that are struggling with their lives and need support to get in touch with their adviser and think about completing Work Connect.