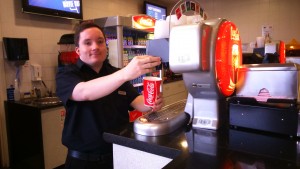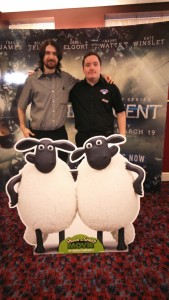 My name is Michael Hughes and I joined Mencap's Employment & Personal Development Service in August 2014, after I completed a 3 year course with Belfast Metropolitan College. Part of the course included a placement with Dunnes Stores Belfast on two half days per week but this finished when I completed my course. I really enjoyed working with the public.
When I joined Mencap, my Employment Officer Rita McCrory, took me through a Vocational Profile. This helped me to see what type of work that would suit me and Rita talked to me about starting with a placement in either a cinema or golf club.
Rita arranged for me to try a 12 week placement with Movie House, Dublin Road, Belfast where I learnt the duties of General Assistant. It made me very happy because I go to the cinema at least once a week but I never thought I would be able to work in a cinema.
My manager, Nuala Stewart said that 'I started to fit into the team very quickly and she could see me coming out of my shell and being friendlier with staff and customers'.
Just after Christmas, the Movie House started recruitment for General Assistants. My Employment Officer, Rita, got me an application form and helped me fill it in. We brought it down to the Movie House and I gave it to one of the supervisors.
About a week later, the manager, Nuala Stewart, rang me and asked me to come to an interview. Rita helped me practice before the interview and I worked really hard on learning how to word the answers I wanted to give. I knew about the job and what to say because I had been on placement with Movie House for 11 weeks. Working with my Employment Officer made me feel confident at the interview.
I got a phone call on Saturday 31st January from Tamara, the Assistant Manager of Movie House to tell me I had done well at the interview and they wanted to offer me a job! I was over the moon and my Mum was so pleased for me.
I rang my Employment Officer and said "Guess what? I am part of the Movie House team!" Rita said she was so proud of me and I had worked hard for it. I said I know I had.
I started my first paid job as General Staff on Monday 16th February 2015. I am learning new skills, working behind the kiosk serving customers, taking tickets at the door and I am going to be learning how to use the till. My Employment Officer supports me through all my in-house training and I feel like part of the Movie House Team. I am so lucky to have got a job in Movie House.
Nuala Stewart the Manager of the Movie House Cinema said;
'From the commencement of Michael's work experience, Michael has proved himself to be a highly capable young man in this busy City Centre cinema. His genuine interest in the cinema industry has helped him to exceed all expectations that the managers had before his work experience started, and all along the way.
He has integrated within the large team of staff, so much so, that within a month of starting he joined in with the staff Christmas party night.
When a recruitment drive began mid January, Michael's was the first application to be received. This eager attitude has proved one of Michael's strongest traits, and helped him secure the position, commencing February. Indeed, the first week Michael began as Movie House staff was one of the busiest weeks for a long time. Michael took it all in his stride, proving himself an asset to the team.
The management team have been greatly supported by Mencap to ensure the transition into paid employment has been fully informative for Michael. Multiple meetings and extra time was invested to fully explain the company procedures and terms of employment. We are looking forward to developing Michael's skills further within the cinema.'
Michael's mother, Bernadette, has noticed a difference in Michael since he left college and started with Mencap:
'Mencap's support for Michael during his transition from college life to the world of work has been invaluable. Their assessment of Michael's needs, interests and skills have ensured that Michael was placed in an environment in which he was able to respond very positively and their continued practical support is facilitating the development of more skills and behaviours which will benefit him in the challenging world of work.
Michael has always had a passion for music and film so when Mencap managed to secure a placement for him with Movie House Cinemas, he felt he had managed to get his dream job. Effective collaboration between the Movie House Staff and Mencap have ensured that Michael very quickly felt he was a valued member of their team and I have to commend the Movie House Cinemas for their part in making this happen for Michael.
I have never seen him so happy and self assured. Getting paid employment was the icing on the cake for Michael. His self esteem and pride in himself soared and he still can't believe that he is getting a payslip with everyone else in the Team. To be recognised and valued as a paid member of staff has really made a big difference to Michael's life and I am so proud of him but recognise that he could not have achieved this without Mencap's continued help and support.