The Action on Hearing Loss Workable NI team are back at it with virtual peer support sessions delivered through Zoom. Workable NI Programme participants joined in with several different sessions, some using British Sign Language, some Irish Sign Language and the team took turns live note-taking using the chat box function to ensure the experience was as accessible as possible.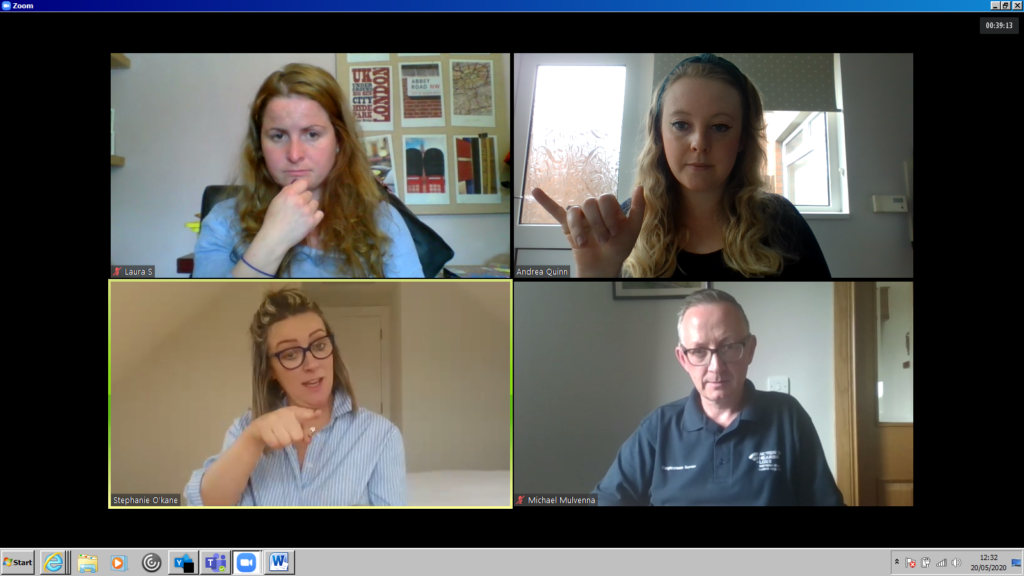 The recent COVID19 situation has been difficult for everyone. For Workable NI Programme participants, the first few weeks of lockdown were understandably stressful. There was uncertainty around jobs, fears around distancing measures at work and concerns about messages being correctly communicated.
In addition to this, government advice to cease face to face meetings has been particularly difficult for those on the programme who may have received both one to one support meetings with their Employment Support Officer and peer support meetings with other participants.
Never ones to be put off by a challenge, the team quickly set up peer support sessions through Zoom as an alternative. Participants logged in for a virtual coffee and shared their experiences of life in the lockdown.
Some were key workers, who popped in for a quick cuppa in their lorry before going on to the next job, others have been furloughed and are struggling with adjusting to the new normal.
Paul Stewart, Business Support Clerk at Belfast City Council, who is currently working from home said: "I thought the meeting via Zoom was a great opportunity for me to connect with other users from the SES Workable NI programme and to give an update on my homeworking condition to my Employment Support Officer. I am thankful for technology which enables me to connect with my colleagues and having an interpreter also makes it much more accessible for me."
The team plan to continue these sessions on a regular basis as a way to enable Workable participants to catch up and share advice and tips.
If you would like to know more about the Workable NI Programme, please contact the team at: Email: [email protected] Mobile: 07436838164