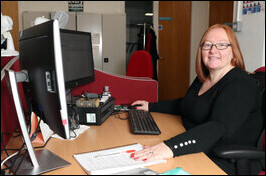 Hazel Craigan is an important asset to the Public Health Agency, where she has worked since 2019. As Personal Assistant to the Assistant Director, Hazel has a key role and has continued to work throughout the Covid-19 pandemic.

Her role includes diary management, admin support and coordination of meetings, and she provides an important liaison role between the PHA, Department of Health, Health Care Trusts and other professional bodies.
Speaking about her experience Hazel said: "The extra needs and communication support that I require as a Deaf British Sign Language user don't limit my ability in any way. I recently worked independently coordinating two full days of interviews for the PHA with the support of an interpreter. I had to meet and greet the candidates, explain the plan for the day and actively respond to their needs. I love my job, I love interacting with the public and I can't thank RNID enough for everything they have done for me."
Please feel free to read more about this story at this link.
https://www.equalityni.org/Employers-Service-Providers/Recruiting-people-with-disabilities/Tabs-(1)/Case-studies-(1)/Hazel-Craigan