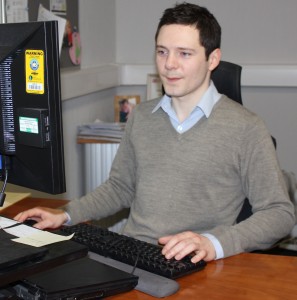 I am currently settling in to my new job at Belfast City Council, thanks to the Work Connect Scheme, and the Orchardville Society.  I want to thank the Jobs and Benefits Office, and particularly Mairead Hamer from Orchardville, for helping me back into work.
I was in a difficult situation, because due to my disability, it is very hard for me to succeed at traditional interview processes, and I need reasonable adjustments at work which are awkward for some employers to make, and some employers would rather not.
This meant that I had to apply for jobs that were not appropriate for me, and most of the jobs that were appropriate for me had selection processes in which I couldn't compete.  With the Scheme supporting me, and Mairead's work to find a suitable employer, I was able to get a job based on my strengths, and not affected by my difficulties.
I was offered a voluntary work placement at Belfast City Council, where I was able to prove that I had the skills required to work in their offices, without the need for a formal interview.  While there, I developed my interpersonal skills, and got used to the office environment and the work that goes on there, in my own time, and with ample support.
My placement ended when I took part in the Pre-Recruitment Training Program, arranged by the Jobs and Benefits Office, and the Council.  On this course I spent two weeks in a classroom setting, learning about the Council, office software, communication, teamwork, and health and safety.  I then spent another week in the offices at the Council, working in the role that I was to apply for after the program.
This process gave me the confidence and experience I needed to have a chance to get the job at interview stage, and we were also all given the opportunity to have a practice interview, with immediate feedback from the interview panel.  We studied all the subjects we needed to pass the Council's aptitude tests, and were taught a lot about good working practices.
When the real interview finally came around I was confident, and well-prepared, thanks to the Pre-Recruitment Program.  I was able to do my best, and already having shown the Council that I was willing and able to work, I managed to succeed at the interview stage.
I can't describe how grateful I am to have a full-time, permanent job now, and I couldn't have got it without this process, and the Orchardville Society's support.  Like many people I'm sure, getting a job in my case isn't as simple as sending in an application form and then attending an interview.  I need support, and a degree of understanding, particularly to negotiate reasonable adjustments with my employer.  This process allowed me to find the right job, and gave me the opportunity to have as much of a chance to get it as anyone else who applied.